Used Boats:
29
Adverts Displaying:
1
-
10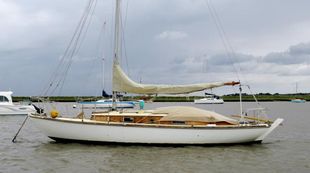 Folkboat built by Parhams and Son of Emsworth. Carvel wooden example of mahogany planking on oak frames. She has an extended coach roof afore her Aluminium mast, wooden boom. Marine ply sheathed and painted decks. A Yanmar 10, 9hp diesel engine. And for home comforts/ extended cruising there is a solid fuel stove on board. Her standing rigging was replaced in 2005 , she has two fore stays allowing quick change overs of sail. She has been in the same ownership 50 years. Kept sailing with the small fleet of other folkboats, one designs, Dragons and other little Classics on the River Alde...
read more
Year:
1960
Length:
25' 6"
Location:
Suffolk UK
Price:
£4,950 Tax Exempt

View Details
A really attractive clinker wooden dinghy varnish finish, both inside and out, copper fastened. White anti fouling. Brass keel band runs the length of her keel, 2 x short stringers. " x slated sole boards. 2 x Rowing positions. To be sold with pair of leathered oars and a pair of galvanised rowlocks. Vessel was restored replacing some broken ribs and sealing a couple of cracked planks. She has not been tested on the water....
read more
Length:
9'
Location:
Essex UK
Price:
£1,250 Tax Exempt

View Details
Merewif, deemed to be hull number 2 of the Sovereign Class, C.R. Holman design built by the renowned Uphams Boatyard of Brixham. Listed in Lloyds Register built to A100A1 grading. Much of her youth was spent on the East coat in and around West Mersea with Gowens the sail makers, best friends and contemporary of the designer/ builder Kim Holman. She spent 18 years under cover in Kings Yard before being Sold again to the present owners who have lavished their time and money into her. Merewif has been restored to near new condition again. All the planking was checked out by a qualified shipwr...
read more
Year:
1963
Length:
32'
Location:
Suffolk UK
Price:
£19,950 Tax Exempt

View Details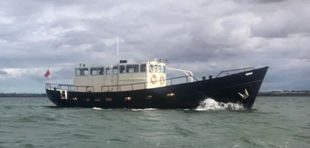 Cornelis, a Classic styled steel motor yacht, built as a mussel cutter in 1959. Professionally converted from a commercial fishing cutter into a practical, contemporary motor cruiser, she offers accommodation for up to six persons. A cruising home/ pleasure craft, that can easily be used for commercial survey or charter work She has the capabilities could go practically anywhere and can be run self sufficiently for her electrical needs. Further modifications and re builds to her domestic arrangements were completed, 2018. She has spent the last couple of seasons over in Holland, cruising i...
read more
Year:
1959
Length:
17m
Location:
Essex UK
Price:
£135,000 Tax Paid

View Details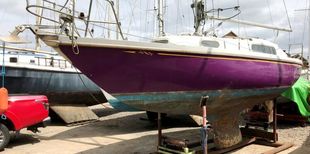 "The Purple One". she is a one off and something rather special. She was purchased in a very poorly state. Her Engineer owner stored her away as his project and set about having her professionally restored she was stripped of all her original outdated interior, engine, and the 2 moulds of her make up the hull and the deck were re fastened and re sealed. A mammoth task. All new gear, fixtures and fittings were installed. The main bulk of the work carried out between 2001 -2002. LOA 7.90m LWL 5.63m, Beam 2.59m, Draft Min 1.40m Stood ashore on marina, requires re-antifouling. ...
read more
Year:
1983
Length:
26'
Location:
Essex UK
Price:
£9,500 Tax Paid

View Details
This is a project which has been in the same ownership for the last 20years. fter she fell over and damaged her topsides he decided to take her on . after much restoration work to her hull. she was actually re floated, 2008. She was then taken out of the water and transported to her current site which is inside a workshop/ shed at home. All equipment and gear taken out of her has been retained. There are still many man hours required, a "labour of love" is required to get her back into commission....
read more
Year:
1936
Length:
30'
Location:
Essex UK
Price:
£12,500 Tax Exempt

View Details
Carabella, is a modern Classic built in 1965. Designed along the lines of a Scandinavian Folkboat by David Cheverton, She is a Mark III version of type. She has been beautifully maintained and restored by her present owner and is in excellent condition. Adaptions and modifications have been carried out to her rigging so that lead all the rigging and the controls are in the cockpit. An easily handled seagoing yacht, capable of offshore passages, in all weathers. Her shallow draft she makes an ideal cruiser for beginners to potter around in. Presently ashore. Mooring paid up to June 2...
read more
Year:
1965
Length:
24' 6"
Location:
Essex UK
Price:
£5,950 Tax Exempt

View Details
Van de Stadt design, known as a Tufglas 33, a Seacracker 33 or a TrinellaIIa ( in Holland) . Hull built by Tylers, self fitted out fitted. First launched in 1985. not completed until 1987. Bermudian sloop rig, new suit of sails were purchased in 2002. These yachts are found to be very sea kindly and solid. they tend to sit in the water rather than on it. The present owners have cruised extensively with her. She has spent most of the last two years out of the water, works done to the engine, the wooden mast plinth was replaced with new. She offers comfortable accommodation for two, headroo...
read more
Year:
1985
Length:
32' 10"
Location:
Essex UK
Price:
£10,500 Tax Paid

View Details
A tremendous tough little Gaffer, An ideal little picnic boat. She has just been refitted, re-antifouled and back in the water, July 202. A simulated clinker GRP hull. Rigged as a Gaffer cutter, with a drop centreplate, she is set up for single handed sailing. Professionally fitted out 2016 and re rigged....
read more
Length:
23'
Location:
Essex UK
Price:
£4,500 Tax Paid

View Details
Reynardine is a classic Alan Buchanan Gaff Yawl built by R M Johnson at Gweek Creek, Cornwall IN 1974. Solidly built of pitch pine on oak frames with a laid teak deck over marine ply. She is a fast and seaworthy vessel, cruises easily at 5-6 knots with a top speed of 8-9 knots. She is deceptively spacious below, as well as standing headroom throughout the saloon ans the gallery area. There is a double berth in the focsle, 2 single berths in the saloon plus a pilot berth. Large self draining cockpit which will comfortably seat 5. She was last surveyed in April 2017 when she was given a clea...
read more
Year:
1974
Length:
32'
Location:
Essex UK
Price:
£29,500 Tax Exempt

View Details